Reasons to Visit Bernstein Medical - Center for Hair Restoration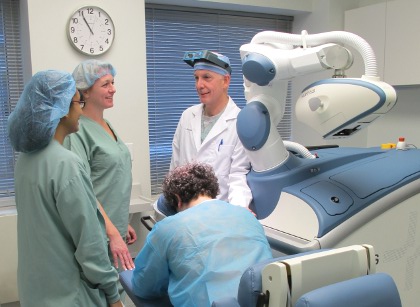 Bernstein Medical has been on the forefront of hair restoration since Dr. Bernstein's pioneering work on follicular unit hair transplants in 1995. As an authority in the treatment of hair loss, we are dedicated to providing the most advanced, highest quality treatments for our patients. The list below provides you with some of the best reasons to visit our state-of-the-art facility in New York City.
The mission of Bernstein Medical is to give exceptional care for all our male and female hair restoration patients. As such, we are exclusively devoted to the diagnosis and treatment of hair loss.
At Bernstein Medical, all consults are one-on-one consultations with a board certified dermatologist. We do not have medical consultants or salespeople. At your consult, you will receive an honest and thorough evaluation of your hair loss, including an explanation of its cause and a discussion of the best medical and surgical options for your particular case.


Board Certified Physicians

At Bernstein Medical, a hair transplant is only recommended if the patient is found to be a good candidate for surgery. This ensures that surgery is only performed when it is medically indicated and that it will offer the patient the greatest cosmetic results. Read about Candidacy for a Hair Transplant »
Bernstein Medical is known for the creation of natural hairlines and undetectable hair transplant results. Our doctors develop customized aesthetic plans for each patient which take into account the patient's age and the predicted extent of hair loss over the long-term. Read about Hair Transplant Design & Aesthetics »


Follicular Unit Transplantation

In 1995, Dr. Bernstein pioneered Follicular Unit Transplantation (FUT), the procedure that revolutionized modern hair restoration. In 2002, he introduced Follicular Unit Extraction (FUE), further transforming the industry. Innovations at Bernstein Medical continued through 2011 with the launch of the ARTAS Robotic System for FUE and subsequent advances in the robotic system. Read Dr. Bernstein's Medical Publications
Bernstein Medical is an ARTAS Center of Clinical Excellence for Robotic Hair Transplant procedures. We were the first hair restoration center on the East Coast and one of the first worldwide to use the ARTAS robot. All FUE procedures at Bernstein Medical use the ARTAS System. Read about Robotic FUE with the ARTAS System »

Dr. Bernstein and Dr. Shaver, our board-certified dermatologists, collaborate with Restoration Robotics on advancing the technology and application of robotic hair transplantation. Dr. Bernstein is a medical advisor to the company and Bernstein Medical is a beta-testing facility for the ARTAS robotic system. This means that you will receive the benefit of the latest improvements to the robotic system. Read about research and development of the robot at Bernstein Medical »
Dr. Bernstein is a Clinical Professor of Dermatology at Columbia University in New York and the world's most published authority on FUT and FUE, procedures he developed and introduced into medical literature. He is continually developing new technologies and protocols to enhance and improve FUT and Robotic FUE.
Dr. Shaver is a board-certified dermatologist with a special focus in robotic hair transplantation and Scalp Micro-pigmentation (SMP). She earned a bachelor's degree in biology with honors from M.I.T. and has trained under both Dr. Rassman and Dr. Bernstein. Dr. Shaver brings her knowledge, compassion and extraordinary aesthetic eye to our practice.
Dr. Bernstein is the recipient of the "Platinum Follicle Award," the highest honor bestowed by the International Society of Hair Restoration Surgery. This award represents outstanding achievement in basic scientific or clinical research in hair restoration.
All members of Bernstein Medical's clinical staff have been personally trained by our physicians. They are among the most experienced in the world at performing both FUT and FUE. Unlike other facilities, the entire staff at Bernstein Medical are full-time employees. We do not employ per-diem staff. This ensures consistency in skill and exemplary execution of hair transplant procedures. Read about Our Staff »
Patient education is a primary focus in our practice. We offer extensive educational resources on hair loss and hair transplantation to give you a thorough understanding of hair loss and the various treatment options.
BernsteinMedical.com is the most comprehensive website on surgical hair restoration of any medical practice in the world and serves as a reference for both physicians and patients around the globe.
Bernstein Medical surgeons have posted over 2,000 before and after patient photos on our website, significantly more than any other hair-dedicated practice. View our Hair Transplant Photo Galleries »
Bernstein Medical has received multiple consecutive three-year certifications by the Accreditation Association for Ambulatory Health Care (AAAHC) in recognition of our maintaining the highest quality of patient care.
Bernstein Medical is the first facility to offer Robotic FUE patients smaller, customized punch sizes (instead of the traditional 1-millimeter punch) and computerized follicular unit graft selection to reduce scarring and maximize hairs per graft. Read more about Robotic FUE at Bernstein Medical »
Dr. Bernstein, on the forefront of robotic technology in medicine, was named by Onalytica as one of the top influencers on robotics due to his on-going efforts to improve the ARTAS Robotic System. He was the only surgeon ranked in the top 40 of influencers involved in all types of robotic technology.
Our patients come from all over the world (67 different countries) for our cutting edge technology, aesthetic mastery of hair restoration, and strict adherence to medical ethics.
A significant part of the practice at Bernstein Medical is dedicated to hair transplant repair, with many patients coming to us to correct outdated or poorly-executed hair transplant procedures. Dr. Bernstein set the standard for repair procedures in 2002 with his detailed publication, "The Art of Repair in Surgical Hair Restoration."
Dr. Bernstein has been selected as one of New York Magazine's "Best Doctors in New York" for eighteen consecutive years (2000-2017).
Dr. Bernstein is the surgeon to whom other physicians refer their patients and choose for their own hair transplant procedures. High-profile executives and celebrities make up a substantial part of our practice.
For their contributions to the science of hair and outstanding patient care, Bernstein Medical Physicians have been featured on multiple media outlets including: The Oprah Winfrey Show, The Dr. Oz Show, New York Times, Wall Street Journal, Men's Health, The Doctors, Good Morning America, The Today Show, The Howard Stern Show, The Discovery Channel, The Early Show, CBS News, Fox News, New York Post, Univision, Telemundo, National Public Radio, The Bald Truth, GQ Magazine, Vogue, Interview Magazine, Columbia Business, and The Columbia Journalist. Watch videos of our physicians on television »
The physicians at Bernstein Medical take pride in being readily accessible to our patients, as patient satisfaction is our number one concern.
Both Follicular Unit Transplantation (FUT) and Follicular Unit Extraction (FUE)procedures are performed at Bernstein Medical – Center for Hair Restoration. Here is why this is so important and something that is unique to our practice.
By:

Dr. Robert M. Bernstein


Updated:

2022-06-19

| Published:

2009-07-31