Dr. Robert M. Bernstein is a Clinical Professor of Dermatology at the College of Physicians and Surgeons of Columbia University. He is a world-renowned pioneer of modern hair transplant surgery and founder of Bernstein Medical – Center for Hair Restoration in New York. Dr. Bernstein is recognized for developing Follicular Unit Transplantation (FUT) and Follicular Unit Extraction (FUE), the procedures that revolutionized the field of surgical hair restoration.
Dr. Bernstein is on the forefront of robotic hair transplant technology and collaborates with Restoration Robotics to improve the ARTAS® Robotic System for FUE. He is a medical advisor to the company. Advances in the ARTAS robot introduced at Bernstein Medical include more efficient follicular unit harvesting, customizable punch sizes, robotic recipient site creation, automated graft selection, "pre-making" recipient sites, a "long-hair" technique that enables Robotic FUE without shaving the entire donor area, plus a variety of other important modifications. Every FUE procedure at Bernstein Medical uses the precision of the ARTAS system. Our practice is a beta-test site for advances in this innovative hair restoration technology.
As the most published author on the subject of FUT and FUE; with over seventy articles, editorial reviews, books and textbook chapters; Dr. Bernstein is widely recognized as an authority on all aspects of hair transplantation and hair loss. His landmark scientific papers are considered to be seminal works in the field of hair restoration surgery. In "Millennium Paper: A History of Dermatologic Surgery in the United States," Dr. Bernstein was cited as being one of three physicians who played a leading role in advancing and developing hair transplant surgery. For the layman, Dr. Bernstein co-authored Hair Loss & Replacement for Dummies, a thorough guide to male and female hair loss and its treatment.
Platinum Follicle Award
Dr. Bernstein is a recipient of the "Platinum Follicle Award," the highest honor awarded by the International Society of Hair Restoration Surgery (ISHRS), for his outstanding achievement in the scientific and clinical research of hair transplantation. In presenting the award, the president of the ISHRS said, "Dr. Bernstein has contributed to the field of hair transplantation in dramatic and substantial ways, revolutionizing the advancement of Follicular Unit Hair Transplantation. His published articles have become 'Bibles' for this methodology."
Dr. Bernstein has been included in Castle Connolly Medical's "America's Top Doctors" and New York Magazine's annual "Best Doctors" issue for 18 consecutive years. These physician-nominated lists are published annually by Castle Connolly. Dr. Bernstein was also included in New York Magazine's "Best Beauty Docs in New York" for his pioneering work in FUT and FUE. He has been honored as "Pioneer of the Month" and "Surgeon of the Month" in Hair Transplant Forum International, the journal of the ISHRS.
Dr. Bernstein has made numerous appearances on television and in the media, including features in: The Oprah Winfrey Show, The Dr. Oz Show, Good Morning America, The Today Show, CBS News, ABC News, Fox News, "The Doctors" on CBS, The Early Show, The Howard Stern Show, The Discovery Channel, Univision, Telemundo, and National Public Radio. He has also been interviewed by GQ Magazine, Men's Health, Vogue, Interview Magazine, Columbia Business, The Columbia Journalist, The Wall Street Journal, and The New York Times.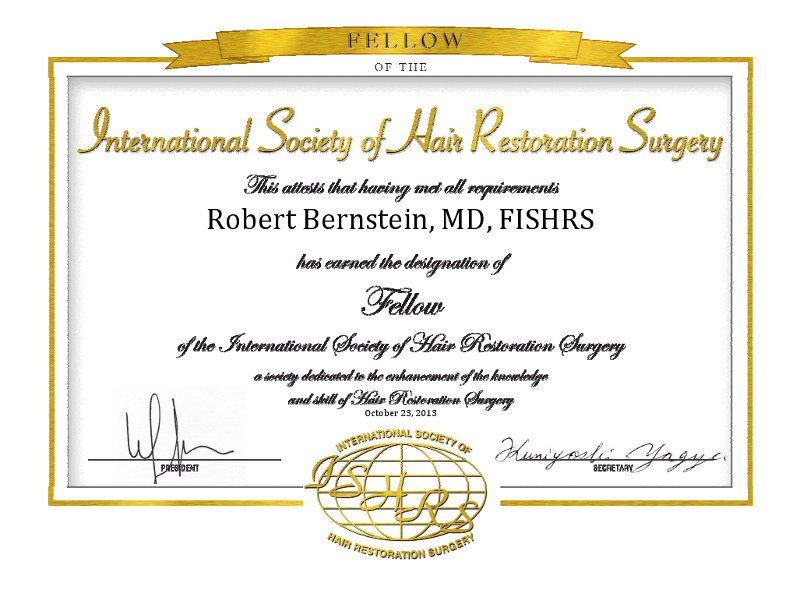 Dr. Bernstein is Board Certified in Dermatology, is a Fellow of the American Academy of Dermatology, and a member of the inaugural class of Fellows of the International Society of Hair Restoration Surgery. He is certified by the American Board of Hair Restoration Surgery and has served as an Examiner on this board and on the editorial board of the journal Dermatologic Surgery. He is a member of the American Academy of Aesthetic and Restorative Surgery, American Society for Dermatologic Surgery, International Society of Hair Restoration Surgery and the American Academy of Cosmetic Surgery.
Dr. Bernstein graduated with honors from Tulane University achieving the status of Tulane Scholar. He received the degree of Doctor of Medicine at Rutgers University, New Jersey Medical School where he was given the Dr. Bleiberg Award for "Excellence in Dermatology." He received his dermatologic training at the Albert Einstein College of Medicine in New York where he served as Chief Resident. Dr. Bernstein also holds an MBA from Columbia University.
In addition to a busy surgical practice, Dr. Bernstein teaches at Columbia University College of Physicians and Surgeons and lectures both nationally and internationally on the diagnosis and treatment of hair loss. Dr. Bernstein's wife, Shizuka Bernstein, was born in Tokyo and owns Shizuka New York, a day spa in midtown Manhattan. They have two sons, Fukutaro and Taijiro, and a daughter, Nikita.
Dr. Bernstein in New York Magazine's 'Best Doctors in New York' for 20 Consecutive Years