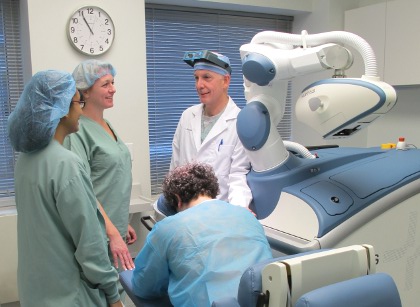 Dr. Bernstein and Staff with ARTAS System
We are pleased to announce that robotic FUE is now available at Bernstein Medical – Center for Hair Restoration. This is a major advance in FUE technology.
The ARTAS system for hair restoration allows us to more effectively isolate follicular unit grafts from the donor area of the scalp without causing damage to individual follicles, a problem that has been a limitation of manual FUE techniques. Many other important parts of the FUE procedure will still be performed by the physician and team, including actual removal of the follicular units from the scalp, recipient site creation, and graft placement. The aesthetic elements that give a hair transplant a natural-looking result will still be in the hands of the physician. Read more about the benefits of robotic hair transplantation.
We are proud of the cutting-edge work we do in our state-of-the-art medical facility and are excited as we take FUE hair transplantation to the next level.
View our press release about the ARTAS system at Bernstein Medical.
Posted by