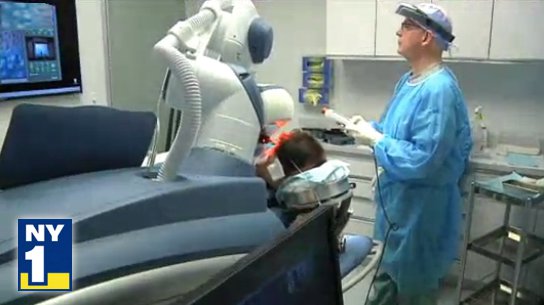 Dr. Bernstein with ARTAS System for Robotic FUE
Dr. Bernstein not only pioneers hair transplant procedures, but hair restoration technology as well. The NY1 television station, based in New York City, visited Bernstein Medical to see a demonstration and talk about the newest tool in the hair restoration toolkit, the ARTAS Robot for Hair Restoration.
The NY1 piece shows the robotic FUE system in action at Bernstein Medical, with views of the robotic arm, the image-guided system, the punch tool, and the user interface.
The segment also reports that Dr. Bernstein is among the first hair transplant physicians to use the technology:
Removing those units has always proved to be the toughest part of this method, but the robot changes that, which is why even Dr. Robert Bernstein — the man who's widely credited with developing follicular unit transplantation and follicular unit extraction — jumped to be among the first in the U.S. to use the device.
Dr. Bernstein speaks to one of the main benefits of the robot, the increased efficiency in extracting follicular unit grafts.
NY1 serves 2.1 million people in the tri-state area, including all five boroughs — Manhattan, Brooklyn, Queens, Staten Island, and The Bronx –– parts of Westchester and Hudson Valley, as well as cities and towns in Bergen County and Hudson County in New Jersey.
Read more about Robotic Hair Transplantation
Posted by