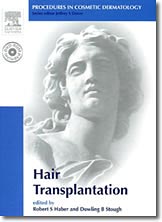 "Hair Transplantation" is a part of a series of medical textbooks — Procedures in Cosmetic Dermatology, published by Elsevier Saunders — which offers step-by-step, practical guides to performing cutaneous surgical procedures.
In "Hair Transplantation," Dr. Bernstein co-authored the chapters on Follicular Unit Transplantation and Follicular Unit Extraction, covering the philosophy, basic science, and techniques in a practical clinical format.
The book's editors selected Robert M. Bernstein as a major contributor, as Dr. Bernstein was uniquely qualified to provide medical professionals with insight and training on the state-of-the-art in hair transplant surgery.
Posted by

2013-07-08
Updated